2011 year, issue 4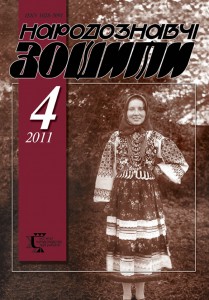 Content
Roman Yatsiv. Holiday of Narodoznavchi Zoshyty (In connection of 100th issue appearance). P. 559-560
read »
Roman Kyrchiv. On ukrainian theme in Adam Fischer's ethnographic paradigm. P. 561-575
Known Polish ethnologist, professor Adam Fischer's connections with Ukrainian scholars have been studied on the ground of archival and other materials. In the article has been traced his research review on some problems of Ukrainian folklore and ethnography as well as quite complicated circumstances of his scientific career and life at Lviv during twenty interwar years and in early 1940s.
Keywords: ethnography, traditional culture, ethnology, folklore, ethno-cultural borderland.
Nykorak Olena. On Kateryna Mateyko's scientific heritage in ukrainian ethnography (in 100th Anniversary of Birth). P. 576-585
The article throws light upon scientific heritage by Kateryna Mateyko, the eminent Ukrainian scholar and ethnographical researcher. The attention has been paid to her most important achievement in studies of Ukrainian traditional folk ceramic wares and clothes.
Keywords: Ukrainian scholar Kateryna Mateyko, folk earthenware, traditional vestment.
Hontar Tayisa. On scholar and guard of traditional folk culture. P. 586-590
In the article are presented some heartfelt recollections on tutoring scholar, museum researcher, ethnographer Kateryna Mateyko.
Keywords: Ukrainian culture, museum, storeroom.
Hvozdevych Stefania. Kateryna Mateyko as researcher of ukrainian traditional folk ceramics. P. 591-597
A report written upon the basis of publications and personal remembrances has brought brief biography of Kateryna Mateyko (1910—1995) — an eminent Ukrainian ethnographer and museum employee with presentation some main landmarks of her ceramological studies. Characteristics have been given of principal publications by scholar as for mentioned themes with definition the weight of researcher's contribution into complex study and museum preservation the Ukrainian traditional culture of XIX—XX cc. In particular, special accentuation had been lain on enormous factual objective basement of works as well as numerous field studies and close scientific touch with local centres of Ukrainian pottery as Kosiv, Sokal, Drohobych, Opishne. Quite high professional level, erudition and personal charisma of scholar whose destiny had been marked by hard epoch of totalitarian regimes in Ukraine have been underlined.
Keywords: Kateryna Mateyko, Museum of Ethnography and Artistic Crafts, pottery, traditional folk ceramics, local features of folk culture.
Ostapyk Olha. Kateryna Ivanivna Mateyko — ethnographer, museum employee, art scholar, researcher in traditional folk culture. P. 598-604
The article written on the basis of archival materials of the Ethnology Institute, NASU brings an analysis in scientific, researching, collecting, museum, methodical ans social activities by K. I.Mateyko
Keywords: K.I. Mateyko, ethnographer, museum employee, reviewer, scholar
Mozdyr Mykola. As such i do remember her. P. 605-607
In the article are presented warm reminiscences on a scientist and colleague with whom the author spent quite a long passage of his life.
Keywords: Kateryna Mateyko, scholar, specialist, Museum of ethnography and artistic craft of Academy of Sciences, USSR.
Hudak Vasyl. Reminiscences of unforgettable impressions. P. 608-610
The article brings reminiscences on first acquaintance of K.I. Mateyko at the Museum of Ethnography and Artistic Crafts, Lviv as well as of further cooperation with the scholar in that institution and those self-sacrificing scientists who created the Ukrainian science under horrifying conditions of totalitarian regime.
Keywords: K.I. Mateyko, scholars, researchers, repressions.
Nykorak Olena. On scientific works by Kateryna Ivanivna Mateyko, full member of Shevchenko Scientific Society, Ph.D.Hist. P. 611-614
read »
Gerus Ludmyla. On traditional folk toys in Kateryna Mateyko's studies. P. 615-623
The article brings analysis of the work by Kateryna Mateyko, known ethnographer, in the branch of studies on traditional folk toys.
Keywords: traditional folk toys, play, ethnography, culture.
Kateryna Mateyko. On devotees of Ukrainian art. P. 624-628
read »
Motyl Romana. Earthenware of the neolitic age in Ukrainian territories. P. 629-634
The article deals with earthenware of Ukraine in the period of Neolith. The main types and forms as well as some dominating motives of patterns in ceramic complexes of neolithic cultures have been put under thorough analysis. Some typical peculiarities of neolithic ceramics as transition from sharp-bottomed pots to plane-bottomed objects, the appearance of stamp and comb patterns etc. are being defined.
Keywords: earthenware, neolithic ceramics, typical peculiarities, pot, form, pattern.
Kolupayeva Ahniya. On sources of ukrainian church ritual ceramics. P. 635-655
In systemic way the article has thrown some light upon monuments of Byzantine ceramics — including those from Ukrainian territories — as one of sources for studies in historical, typological, iconographic aspects of Ukrainian church ritual ceramic wares. Among numerous items have been considered most ancient ceramic church products as lamps, liturgical vessels, pilgrim clay eulogias (medallions, tokens, ampoules), and clay stamps for preparation of liturgical bread, eulogias for pilgrims as well as ceramic icons.
Keywords: Byzantine ceramics, lamp, polycandelon, clay eulogia, ampoule, token, clay stamp for liturgical bread, liturgical vessels, ceramic icon.
Ivashkiv Halyna. Peculiarities of form and decor of ceramic chimneys. P. 656-670
The article explores questions of use, typology and artistic peculiarities of ceramic chimneys as a kind of architectural ceramics. Their names in different regions of Ukraine have been recorded, time of their use has been outlined, major forms and decoration have been analyzed. Ceramic centres where the chimneys were made and authorship of some of them have been determined.
Keywords: architectural ceramics, chimney, stove, smoke, form, decor, relief elements.
Bolyuk Oleh. On principles in systematization of wooden equipment and architectural elements of church interiors. P. 671-679
In the article have been considered some criteria used at systematization of wooden constructions of the church interiors. An attempt has been made to elaborate a kind of typology for temple architectural elements decorated with profiling and carvings.
Keywords: architecture, church, interior arrangement, wood, art, decor.
Oliynyk Olha. On ukrainian church cloths, their types, origins and symbolism. P. 680-690
In the article have been considered church cloths, art-wares belonging to most important liturgical and ritual attributes of Ukrainian church and presenting themselves as true outstanding artistic phenomena. According to its functional treats this branch of church art has united three kinds of products, viz. clergymen's vestments, sacral covers and ritual cloths. Two first kinds in sacral sense have been considered in the article as principal ones while temple ritual objects are mainly used in arrangement of church interiors, non-liturgical rites and processions.
Keywords: cloths, typology, symbolism, vestment, cover.
Fedorchuk Olena. Artistic beadwork in ukrainian folk art: origin and tradition development. P. 691-703
This article researches the origin and establishment of the artistic beadwork tradition in Ukraine. The ancient artistic practice is first and foremost connected with the manufacture of superimposed adornments and garments decorating; moreover, manufacture of the churchware and household items. The knowledge of the long-lasting genesis of the beadwork on the historical territory of Ukraine is the starting point for reconstruction of the tradition of national Ukrainian garments decorating in XIX—XX centuries.
Keywords: beadwork, garments, decoration, adornment.
Kozakevych Olena. On traditional laced and knitted products from bukovina region of late XIX and XX cc. (according to expeditionary materials). P. 704-718
In this article compiled on the grounds of expeditionary materials have been considered some research efforts as for typology and artistic peculiarities of traditional laced and knitted products that originated from Bukovina region during late XIX and XX cc. Quite a number of new data and information on objects and techniques as well as ornamental structures with analytical conclusions on influence of other cultures have been presented and introduced into scientific circulation.
Keywords: knitting, lace, lacework, decoration, needlework, traditional.
Shpak Oksana. A centre of folk painting on glass in the village of Richka, Mizhhirya district, Transcarpathia region (mid — and 2nd half XX c.) (after materials of author's field studies in 2010). P. 719-728
In the article based upon author's field research-works of 2010 some activities by the centre of folk painting on glass in the village of Richka have been considered. Previously unknown names of craftsmen have been revealed, typology of items has been elaborated and presented as well as paths of realization and placement of objects in interiors; several artifacts had been introduced in scientific circulation.
Keywords: painting on glass, centre of arts and crafts, craftsmen, typology of wares .
Triska Oksana. Bohorodchany centre of traditional folk painting on glass. P. 729-738
In the article has been considered Bohorodchany centre of traditional folk painting on glass plates belonging to most characteristic ones in this kind of creativity. Twenty-six icons from Bohorodchany presented in the article as for thematic respect are quite close to similar artifacts of Hutsul, Pokuttia, and Bukovyna regions, differentiating from those with some artistic peculiarities, viz. by linear contents, colour ranges and ornamental motifs. In the article have been described the Nimchyks family's creative activities with special attention to the heritage by prominent craftsman, Petro Nimchyk (1853-?).
Keywords: Icon on glass plate, technique, colour range, linear work, decorative motifs, iconography.
Shkolna Olha. Studies in ukrainian art of industrial refined ceramics of XX c.: some differences from russian porcelain-faience in artistic and stylistic dominants. P. 739-744
The representation, the comprehension of scales of the phenomenon and the analysis of features of porcelain and faience of Ukraine against ethnogenetic culturo-creative processes, requires introduction of this part of our heritage into international scientific circulation as well as in home scientific programs of high-schools and research institutions. Thorough and comprehensive investigation in porcelain and faience by various ethnocultural regions of Ukraine has quite important theoretical and practical values for modern art development. Thereupon it is necessary to make use as much as possible of experience by predecessors, especially leaning on works of representatives of the native academic science, including Kateryna Mateyko as methodological principles and the scientific device of modern histories of art, the monographs depend on the base of researches, separate professional publications, reference and encyclopedic articles.
Keywords: Industrial thin ceramics, porcelain, faience, Ukraine, ХХ century, art-style dominants.
Sapelak Oksana. Ukraine in noble images. P. 745-747
read »
Shpak Oksana. Valuable publication on the art of Hutzul embroidery. P. 748-751
read »